Please shop our published products, or feel free to send us a picture of a chandelier or mirror from a magazine, the internet or other source.  We will send you the best price available!
Handmade Murano Chandeliers Made with Love!
Welcome to the world of Murano Glass Chandeliers and Mirror! We invite you to experience the beauty of owning an elegant and luxurious piece of art with an amazing history!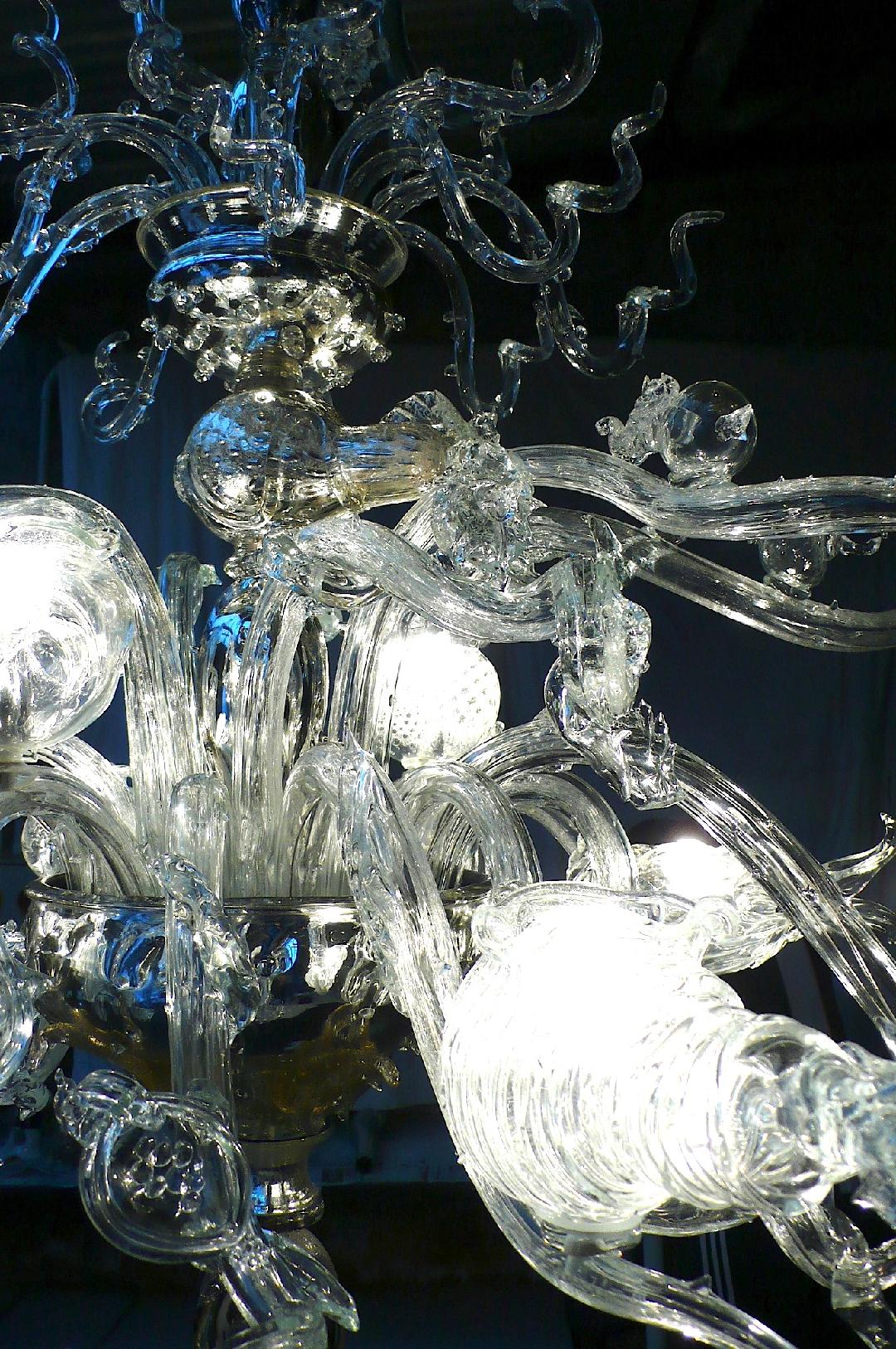 CUSTOM, TIMELESS & BREATHTAKING MURANO GLASS CHANDELIERS
Choosing the right chandelier can be a difficult task. A chandelier is an expensive piece of art that will be in your home or business for a long time, therefore, it has to be absolutely perfect.
But, how to choose the correct chandelier?
We  can offer you the necessary guidance so you can make the right choice on your purchase. You can select one of the chandeliers we have published in the website or you can send me your own specifications so I can make a unique piece of art for you.
If you choose to create a unique chandelier, we will request the following details in order to make your custom made chandelier:
-Dimensions -Color -Number of Lights -Type of chandelier
This is one reason why MURANODIRECT should be your first choice for elegant Murano chandeliers and mirrors.
  The other reason is that we are a USA based company and will provide you all of our expertise and love for Murano glass so you can have the best safe buying experience.
We at MURANODIRECT are happy to help you achieve your dreamed chandelier.  And this is how it works:
You send us a picture or make a sketch of the chandelier or mirror that you found in a magazine, internet or other source, such as your imagination…
We at MURANODIRECT search for a glass master that can create your chandelier and send you a quote.
We await your final decision as to size, color and other details.
We work with you from the moment you place your order, until the magic moment arrives where you receive and install your gorgeous chandelier or mirror!
Only the best Murano Glassmasters at your service!
The Rezzonico line of chandeliers require masterful precision which makes them a true work of art. Each Rezzonico chandelier requires an incredible amount of skill and time.  This chandelier requires precision to twist and shape each piece.  Every shape of glass has to be masterly executed because any outsize piece wouldn't fit to be mounted between the others. The finish product is breathtaking to say the least.
100% AUTHENTIC MURANO CHANDELIERS FOR SALE
Buy Original Murano Chandeliers, Lamps and Mirrors With Ease
If you are looking for a custom made Murano glass chandelier at affordable rates then Murano Direct is the place to come. We sell original Murano chandeliers along with Murano Lights and Murano Mirrors, all made by authentic glass masters of Venice.
Our range of Venetian chandeliers for sale will leave you dazzled with beauty as our collection comprises classic, modern, contemporary, floral, Rezzonico and bespoke Venetian chandeliers with an exotic and masterlly crafted design. Our highly-skilled and experienced glassmakers strike the perfect harmony between perfection and aesthetics so that their creations leave you spellbound.
With unique precision and patients, our craftsmen add the hand-finished delicate details in the original Murano glass chandeliers, which makes them all the more attractive. There is more than one reason to make Murano Direct your choice for classy Murano chandeliers.
Our handcrafted masterpieces are manufactured directly in Venice and unlike most of the chandelier sellers, we only deliver authentic Venetian chandeliers. All our mirrors, lamps, lights and chandeliers are manufactured directly in the enchanted Venetian island of Murano and that carries the authentic essence of traditional Italian design.
Carrying forward the great history and legacy of the original Murano glassmakers, we bring to you premium qualities of chandeliers, mirrors, and lights which will lighten up your home and commercial property, like never before.
Murano Glass Fixtures that Won't Hurt Your Pocket
Though it is true that all our Italian chandeliers don a very gleaming look, compared to the market price, we charge much less for our creations. Bring home today a glittering piece of beauty, plucked from the time of emperors and princesses, at a price which you can afford.
We charge unbelievably low for our handcrafted Murano glass chandeliers. We can guarantee that nowhere else can you get such elegant Venetian chandelier, at such a low cost.
Hand-made and personalized chandeliers are mostly very expensive. That is why many customers (individual or commercial) hesitate before placing their orders. However, in our case prices are not a matter of concern.
Our Venetian chandelier collection is available in a wide variety and you can choose and order according to your budget. Here at our online store, you don't have to bury your desire to see your house beaming with the sparkling lights of Murano glass chandeliers because we are sure that you will find something of your choice at a price you are ready to pay.
Authentic Murano Quality, With No Intermediaries
All that glitters is not 'chandelier'! There are many fake chandelier manufacturers claiming to be authentic. It is hard to tell the difference, in the beginning, but eventually, when the pieces start to fall off and the glow starts to fade, you realize that the item was not original.
However, it is not at all a possibility with Murano Direct as all our craftsmen are from Murano and they personally create each masterpiece. Their delicate touch and calculated design makes the chandeliers, worth the price.
We have a direct connection with some of the best glassmakers in Murano Island. Their generations of glassmaking tradition make them the ultimate maestro in this kind of artistry. The families of some of the best glassmakers of Murano are all connected with us and they work personally for all our products, with special interest and dedication.
Get in touch with us if you want to know which glassmasters we work with. Our personalized service is top-notch. Believe us when we say we work with some of the best Murano glassmasters in the world!
So, when you place an order with us, we not only make sure that your product is being made from the finest of the Venetian glass but we also ensure that the long-lasting chandelier-making heritage of Murano is well reflected in the product you buy.
Whether you want a modern design or a classy one, a bespoke chandelier or a more contemporary or traditional outlook, we can make your dream chandelier come true. Apart from 100% Murano glass chandeliers we also deal with lighting fixtures, including lamps and mirrors.
All our items are handcrafted and made to order right from the original Murano factories worldwide recognized.
In our creations, you can feel the ethnic Italian touch, which is so much in demand around the globe. This is because of the fact that all our craftsmen are from Murano, Venice and they belong to a centuries old Murano glassmaking tradition, which is hard to match and of unparalleled beauty and craft.
The authentic cuts and curves will reveal the pure nature of this age-old Italian art. With our original collection of Murano glass chandeliers along with Murano lights, Murano lamps and Murano mirrors, you can actually carry a part of Venice, into your living public or private space.
Decades of Experience Providing Custom Murano Chandeliers
We offer custom made Murano chandeliers for our individual as well as our commercial clients. For say, if you are looking for contemporary Murano lights with a specific type of Murano glass, you can provide us your detailed demands and we will convert your dreams into reality.
We provide support for custom Murano glass bespoke projects. You can simply send us the photo of whatever you have in mind and our expert glassmasters and designers will manufacture it as per your exact requirements, using the ancient tradition of Murano glass making.
Our glassmasters are descendants of the original Murano glassmaster families native to Venice.
Starting from antique style Murano glass chandeliers to Red clear modern Venetian glass chandeliers you can order anything you wish for. Just send us a picture of what you want or a description of the design, you desire, and we would be happy to deliver you with the same.
Our custom made chandeliers can be made from any type of glass including multicolored glass, emerald glass, milk glass, crystalline glass and also golden glass along with various other Murano glasses.
Since all our products are handcrafted in the island of Murano itself, they reflect the authenticity and elegance of the land and the ageless craft and tradition of the best crystal chandeliers in the world.
We guarantee that nowhere else you will you get an original Murano glass chandelier for your garden-room, with the exact design you want, for probably the lowest price.
Also, no other glassmaker can match your expectations in making the perfect purple Murano glass Rezzonico chandelier for your dining room.
If you are still hesitant, simply send us your specs and price and we'll do our betch to match or give you a better offer. Take advantage of this time-sensitive offer. We can't afford to sell lower than everyone else, but we will do it for a limited set of customers as we want to be known.
Similarly, you can also order different Murano glass lights and Murano glass lamps of your choice. If you are looking to boost up the internal decor of your workplace or home, there is nothing better than original Murano glass creations.
Murano lamps and chandeliers do bring that vibe in your home and office that nothing else can match. Strike the perfect balance between traditional designs and modern taste by bringing home the latest Italian chandeliers, mirrors, and lamps made from the finest Murano glasses.
Here at MuranoDirect.com, we take an oath to provide you with Murano chandeliers for sale which will capture your senses and will boost your position in your social circle.